El fichero que queremos obtener tiene el siguiente contenido
1

2

3

4

5

6

7

8

9

10

11

12

13

14

15

16

17

18
Los usuarios que se van a crear tienen el nombre «usuario» junto con un número de 1 a 100. Después el campo contraseña y en último lugar la dirección de correo. Todo están separados por comas y entre comillas dobles.
El punto importante es el password podríamos añadir uno nuevo para cada usuario, en ese caso tendríamos que crearlo a medida que vamos añadiendo usuarios al fichero. Sobre el algoritmo utilizado en WordPress dejamos la siguiente anotación de la web de WordPress (https://developer.wordpress.org/reference/functions/wp_hash_password/):
Creates a hash of a plain text password. Unless the global $wp_hasher is set, the default implementation uses PasswordHash, which adds salt to the password and hashes it with 8 passes of MD5. MD5 is used by default because it's supported on all platforms. You can configure PasswordHash to use Blowfish or extended DES (if available) instead of MD5 with the $portable_hashes constructor argument or property (see examples).
El código que hace lo que queremos:
(

'"'

+

'usuario'

+

$_

+

'"'

+

',"$P$Bdalsfjalsfsldfjslf","'

+

$_

+

'@example.com"'

)

|

out-file

nmet

.

txt

-Append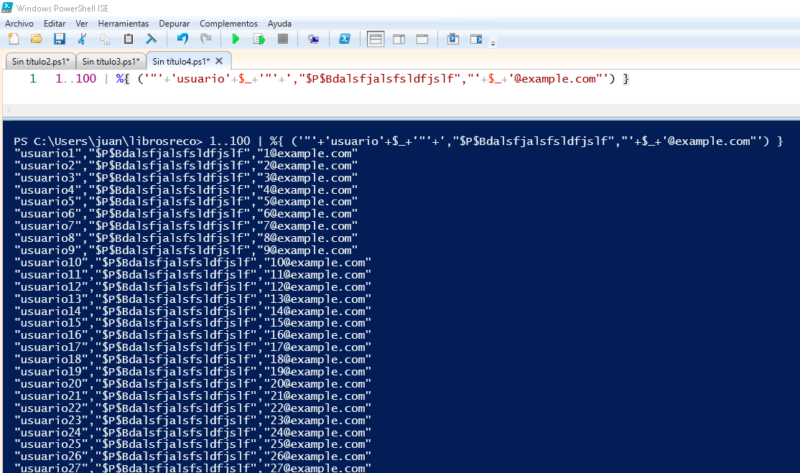 Publicado el día 10 de mayo de 2020
CATEGORÍAS
PowerShell